Printersme.com – The pandemic's far-reaching impacts have altered life as we know it, and as the economy has shifted online, businesses are discovering increasingly imaginative methods to profit in the new environment. Technology provides chances to profit in the same manner that it facilitates communication and keeps enterprises operating. A very real example is the presence of the Epson sublimation printer in digital textile printing.
Digital textile printing provides one such potential. The textile industry is evolving, and the capacity to produce bespoke printed textiles and short fashion runs is increasingly becoming a competitive advantage.
Epson provides a variety of digital textile printers that enable customers to develop and manufacture unique textiles on a large scale with high precision and greater dependability while employing brilliant and eye-catching colors.
Why Epson Sublimation Printers Work Best for You
Here are some of the reasons why bespoke textile printing using Epson's simple Digital Textile Printers might be the ideal business venture for you:
Quick and Efficient Production
Digital textile printers provide much faster production turnaround, allowing you to make the most of what comes your way while avoiding long and costly production delays. For any business, these printers are quick, dependable, and time-saving.
Advanced Printing Quality
Buyers strive for quality in all of their purchases. Digital printing on garments with a sublimation printer provides an exceptional degree of color and quality that is suitable for recreating complicated patterns with correct colors, including precise gradients, in every print.
Low Environmental Impact
Everyone is becoming more concerned about their environmental impact, which also applies to business establishment and ensuring long-term sustainability. Fortunately, as compared to conventional cloth printing, digital printing consumes far less water and power. Epson's digital textile printers enable businesses to remain productive and profitable while still being environmentally conscious.
Very responsive to customer needs
It's all about what's handy, quick, and simple. With the capacity to manufacture short runs and print-on-demand services with minimum downtime, you can keep up with changing client trends and expectations. Meet your audiences' demands by understanding what they want, when they want it, and how they want it done.
Reduced Production Costs
Every entrepreneur is looking for cost-effective solutions that would save them money while providing the greatest quality output for their enterprises. With Epson's sublimation printer, you can manage your production timeline and costs by creating high-quality designs in-house and eliminating costly third-party printing fees.
Unlike other manufacturers, Epson's edge is "in the details," with each product assisting organizations in becoming more cost-effective, cost-efficient, and productive while also preserving the environment.
For small and medium-sized enterprises, both direct-to-garment (DTG) and dye sublimation printing are cost-effective choices. Direct-to-garment printing is comparable to printing on paper using an inkjet printer, only you're printing directly onto cotton-based fabric with specific water-based inks that seep into the fabric, allowing you to conduct short print runs at a cheap cost.
If you want to expand your printing application possibilities, dye sublimation might be an excellent solution. You can simply create personalized garments with dye sublimation since you can control every aspect of the fabric you are printing on.
This is ideal for customers who want customized sportswear and accessories, printed face masks, personalized mugs, or smartphone covers, among other things. Although it needs additional stages, dye sublimation is ideal for companies that want to take design elements a step further than DTG printing. The sublimation printer by Epson right now is the Epson SureColor SC-F6330.
EPSON SC-F6330 Sublime Printer Specifications
Sublime Printers are more commonly used in TC Fabrics, Polyester (Fabric with a high percentage of Polyester content), Dry fit, Jersey, Mug Glasses, Mouse Pads, Laptop Bags, and so on. A sublimation printer is a fabric printer machine that prints (prints) images on transfer paper/sublime paper medium, which is then transferred to fabric using a heater (heat press).
Simply said, transfer paper serves as a temporary medium for the ink, which is subsequently heated together with the cloth in a heat press, causing the ink to evaporate (sublimation) and move to adhere to the fabric.
The print area of the Epson SureColor SC-F6330 Sublimation Printer Machine is up to 44 inches. And it comes with an Original Ink Tank Jumbo with a capacity of up to 1.1 liters per color, which is specifically intended for industrial printing on garments and textiles. PrecisionCore TFP Printhead Technology provides more accurate and precise printing outputs with picoliters up to 5.3 pl.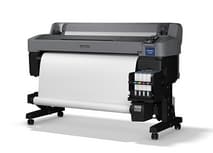 Furthermore, the help of Wasatch Software makes it easier for us to handle print layouts and digital colors, as well as access to all essential operations and features of the Epson SureColor SC-F6330 Printer Machine, such as the ink tank system, control panel, and take-up reel control. Furthermore, UltraChrome DS Ink Technology is capable of producing excellent and vibrant print colors after being transferred to polyester materials.
This Epson SureColor SC-F6330 Sublime Printer comes with a one-year warranty on printhead service and spare parts (terms & conditions apply). The benefit of purchasing an Epson Type SureColor sublimation printer is a Lifetime Service Guarantee as long as the user utilizes Original EPSON Original Ink and never breaks or uses other brands of ink.
Epson SC-F6330 Sublimation Printer Advantages:
Simple to set up
Simple to install and run
Simple upkeep
Includes hardware, software, a printhead, ink, and sublimation paper.
Epson UltraChrome DS ink delivers vibrant colors and crisp details.
The Epson PrecisionCore TFP produces excellent picture quality.
Increased ink capacity
Download Software Driver Epson SureColor SC-F6330
| | | |
| --- | --- | --- |
| Compatible Operating System | Size | Download |
| Windows | | |
| Windows 11, Windows 10 64-bit, Windows 8.1 64-bit, Windows 8 64-bit, Windows 7 64-bit, Windows XP 64-bit, Windows Vista 64-bit | 8.89 MB | |
| Windows 10 32-bit, Windows 8.1 32-bit, Windows 8 32-bit, Windows 7 32-bit, Windows XP 32-bit, Windows Vista 32-bit | 6.4 MB | |
Epson SC-F6330 Sublimation Printer Specifications:
Type
SC-F6330
Printing Technology
PrecisionCore TFP ® Printhead
Printer Width
44 Inch
Maximum Resolution
1440 x 720 dots per inch
Ink Technology
Dye-Sublimation Ink, Epson UltraChrome™ DS
Ink Capacity

Pack 1100ml/colour
Ink Tank 1500ml/colour

Ink
4 colors –Yellow, Cyan, Magenta, High-Density Black
Printer Software
User's Guide, Communication Driver, EpsonNet Setup, EpsonNet Config, EPSON LFP Remote Panel 2, Wasatch SoftRIP, EpsonNet Print
Operating Systems
Windows ® 7-64bit, Windows ® XP-32bit, Mac OS 10.6
Memory
Main: 512MB
Network: 128MB
Interfaces
Standard: Hi-Speed USB 2.0
Ethernet: 10BASE-T / 100BASE-TX / 1000BASE-T
Power Specification
AC 100-240V 50-60Hz
Operating: 65 Watt
Standby: 20 Watt
Sleep: 3 Watt
Dimension
1,620 x 920 x 1,130 mm
Weight
100 Kg (without ink)