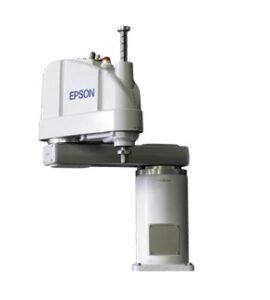 Epson Robot G6: Advancing Industrial Automation to New Heights – Industrial automation has become a key driver in enhancing productivity and efficiency across various manufacturing sectors. Epson, a leading provider of robotics and automation solutions, has consistently introduced cutting-edge technologies to meet the evolving needs of industries worldwide. The Epson Robot G6 stands out as a powerful and versatile industrial robot that offers advanced features and capabilities. This article delves into the key attributes, applications, and benefits of the Epson Robot G6, highlighting its role in revolutionizing industrial automation.
Overview of the Epson Robot G6:
The Epson Robot G6 is an exceptional industrial robot designed to streamline manufacturing processes, maximize productivity, and deliver superior performance. Building upon Epson's expertise in robotics, the G6 integrates state-of-the-art technologies, precise control systems, and an innovative design to meet the demands of a wide range of industries. With its high payload capacity, extended reach, and advanced functionality, the Robot G6 is well-equipped to tackle complex automation challenges.
Key Features and Technical Specifications:
High Payload Capacity: The Robot G6 boasts an impressive payload capacity of up to 6 kilograms. This capability allows the robot to handle heavier objects and perform tasks that require the manipulation of larger components, increasing its versatility in various industrial applications.
Extended Reach: With a reach of up to 1,400 millimeters, the Robot G6 can access workpieces located in a larger workspace. Its extended reach enables the robot to operate across multiple stations or handle tasks that require a wide range of motion, enhancing its adaptability in complex manufacturing environments.
Advanced Motion Control: Equipped with high-performance servo motors and advanced motion control algorithms, the Robot G6 delivers exceptional speed, accuracy, and repeatability. Its precise motion control capabilities optimize production throughput, reduce cycle times, and ensure consistent performance.
Intelligent Vision System: The Robot G6 features an advanced vision system comprising high-resolution cameras and intelligent image processing algorithms. This system enables the robot to perceive and analyze its environment, accurately identify objects, and perform complex tasks with precision. The integration of vision technology enhances the robot's capabilities in inspection, sorting, and assembly processes.
User-Friendly Programming Interface: Epson's intuitive programming interface, known as "Epson RC+" (Robot Controller Plus), simplifies the programming and operation of the Robot G6. The user-friendly interface and comprehensive set of programming tools allow users to quickly develop, modify, and optimize robot programs, reducing implementation time and effort.
Safety Features: The Robot G6 incorporates a range of safety features, including collision detection sensors, emergency stop buttons, and programmable safety zones. These features ensure the safety of human operators working alongside the robot, prevent accidents or collisions, and comply with industry safety standards.
Applications of the Epson Robot G6:
Material Handling and Assembly: With its high payload capacity and extended reach, the Robot G6 excels in material handling tasks such as picking, placing, and transferring heavy objects. It is also well-suited for assembly processes that involve larger components, providing efficient and precise automation in industries like automotive, electronics, and consumer goods.
Packaging and Palletizing: The Robot G6's capabilities make it an ideal solution for packaging and palletizing applications. It can handle and stack products with different shapes, sizes, and weights, optimizing packaging efficiency and ensuring consistent quality in the final product.
Machine Tending: The Robot G6's versatility enables it to perform machine tending tasks, such as loading and unloading parts, monitoring and inspecting processes, and managing material supply. Its advanced vision system allows for accurate part recognition and seamless integration with various types of machines.
Inspection and Quality Control: The Robot G6's advanced vision system plays a vital role in inspection and quality control processes. It can precisely analyze products, identify defects, measure dimensions, and perform quality checks with exceptional accuracy, enhancing product consistency and reducing manual inspection requirements.
Conclusion:
The Epson Robot G6 represents a significant advancement in industrial automation, offering a powerful and versatile solution for a wide range of manufacturing applications. With its high payload capacity, extended reach, advanced motion control, intelligent vision system, and user-friendly programming interface, the Robot G6 empowers industries to enhance productivity, improve quality, and achieve greater efficiency in their production processes. Epson's commitment to innovation and excellence is evident in the design and capabilities of the Robot G6, positioning it as a game-changer in the field of industrial automation.