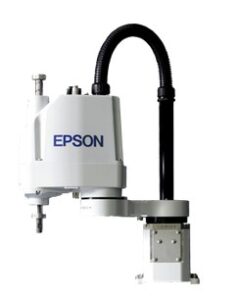 Epson Robot G3: Enhancing Industrial Automation Efficiency – In today's fast-paced manufacturing industry, the demand for automation solutions continues to grow as companies strive to improve productivity, reduce costs, and enhance overall operational efficiency. Epson, a renowned leader in robotics and automation technology, has consistently delivered innovative solutions to address these industry needs. The Epson Robot G3 stands as a prime example of their commitment to excellence in industrial automation. This article explores the key features, benefits, and applications of the Epson Robot G3, highlighting its ability to revolutionize manufacturing processes.
Overview of the Epson Robot G3
The Epson Robot G3 is a high-performance industrial robot designed to optimize manufacturing processes across various industries. Epson has leveraged its expertise in robotics to create a compact and flexible solution that integrates seamlessly into existing production lines. With its advanced features, precision control, and user-friendly interface, the Robot G3 has become a trusted automation tool for industries ranging from automotive and electronics to pharmaceuticals and beyond.
Key Features and Technical Specifications:
Compact and Flexible Design: The Robot G3's compact design enables it to fit into tight spaces, making it ideal for crowded production lines. Its small footprint allows for easy integration without requiring significant modifications to existing setups. The robot's flexibility and adaptability ensure it can meet the needs of diverse manufacturing environments.
High-Speed Operation: Equipped with high-speed servo motors and advanced motion control algorithms, the Robot G3 offers exceptional speed and precision in its movements. This capability significantly enhances productivity by reducing cycle times and increasing production throughput. With swift and accurate operations, the G3 robot effectively optimizes manufacturing efficiency.
Payload Capacity and Reach: The Robot G3 boasts a payload capacity of up to 3 kilograms, allowing it to handle a wide range of materials and components. Its extended reach of up to 600 millimeters provides the necessary flexibility to access workpieces in various positions within the workspace. The robot's versatility in payload handling enables seamless integration into different manufacturing processes.
Advanced Vision System: The Robot G3 incorporates an advanced vision system that comprises high-resolution cameras and intelligent image processing algorithms. This vision system enables the robot to identify, locate, and manipulate objects with exceptional precision, even in dynamic and challenging environments. The integration of vision technology enhances the G3's capabilities in complex tasks and quality control processes.
User-Friendly Programming Interface: Epson's intuitive programming interface, known as "Epson RC+" (Robot Controller Plus), simplifies the programming and operation of the Robot G3. The user-friendly interface and comprehensive set of programming tools enable users to develop and modify robot programs quickly and efficiently. Epson RC+ reduces the implementation time and effort required, allowing manufacturers to optimize their automation processes swiftly.
Safety Features: The Robot G3 is equipped with various safety features to ensure the well-being of human operators working alongside the robot. Collision detection sensors, emergency stop buttons, and programmable safety zones enable safe operation and prevent accidents or collisions. These safety features comply with industry standards and provide peace of mind in human-robot collaboration scenarios.
Installing and preparing the Epson Robot G3
Installing and preparing the Epson Robot G3 involves several steps to ensure proper integration into your manufacturing environment. Here is a general guide to help you with the installation and preparation process:
Pre-Installation Preparation:
Determine the Application Requirements: Clearly define the tasks you want the Epson Robot G3 to perform. Identify the specific application, production requirements, and the robot's role in the overall process.
Workspace Evaluation: Evaluate the workspace where the robot will be installed. Consider factors such as available floor space, ceiling height, and any potential obstacles that may impact the robot's movement.
Safety Assessment: Perform a safety assessment to identify potential hazards and ensure compliance with safety regulations. Determine if additional safety measures such as fencing or safety sensors are required.
Power and Connectivity: Ensure that the installation area has adequate power supply and the necessary connectivity options for the robot's controller and peripheral devices.
Robot Installation:
Mounting: Mount the Robot G3 securely in the desired location. Follow the manufacturer's guidelines for proper positioning and attachment, considering factors such as stability, reach, and accessibility for maintenance.
Cabling: Connect the power cables, Ethernet cables, and any other necessary cables according to the provided instructions. Ensure proper cable management to avoid interference and potential damage.
End-of-Arm Tooling (EOAT) Integration: If the application requires specific tools or grippers, attach the appropriate end-of-arm tooling to the robot's end effector. Follow the instructions provided by the tooling manufacturer for proper integration.
Calibration: Perform initial calibration procedures as specified in the user manual or installation guide. This typically involves defining the robot's home position and verifying its movement range.
Software and Programming:
Robot Controller Setup: Connect the Robot G3's controller to a computer using the provided interface. Install the necessary software drivers and utilities for communication and programming.
Epson RC+ Software: Install the Epson RC+ programming software on your computer. This software provides a user-friendly interface for programming and operating the robot. Follow the installation instructions and ensure compatibility with your computer's operating system.
Programming the Robot: Utilize the Epson RC+ software to create and modify robot programs. The programming language used by the Epson Robot G3 is called "EPSON RC+" language. Familiarize yourself with the software's programming features and syntax to develop the desired robot tasks and sequences.
Testing and Validation: Once the robot programs are created, perform thorough testing and validation to ensure the robot's movements, positions, and actions align with the intended application. Make any necessary adjustments or refinements to achieve the desired performance.
Training and Maintenance:
Operator Training: Provide comprehensive training to operators who will be working with the Epson Robot G3. Train them on the robot's operation, safety protocols, programming basics, and troubleshooting procedures. This training will ensure efficient and safe utilization of the robot.
Ongoing Maintenance: Establish a maintenance schedule to keep the Robot G3 in optimal condition. Regularly inspect the robot for wear and tear, perform routine maintenance tasks, and follow the manufacturer's recommendations for lubrication and cleaning.
Technical Support: Familiarize yourself with the available technical support resources provided by Epson. This includes documentation, user manuals, online forums, and direct customer support channels. In case of any technical issues or questions, reach out to Epson's support team for assistance.
By following these installation and preparation steps, you can effectively integrate and prepare the Epson Robot G3 for your specific manufacturing requirements. Remember to refer to the official documentation and guidelines provided by Epson throughout the process for accurate and detailed instructions.