Download Epson DS-80W – Easy to use, set up and transport, the DS-80W can run without a power source, making it even easier to stay organized. It automatically detects whether it's in wireless or USB mode. For seamless integration with third-party applications, OCR and document capture software are included.
Take a look
The DS-80W has Wi-Fi, a battery, and an LCD panel, allowing it to scan anywhere in just 4 seconds per page. It can scan up to 300 pages when fully charged. This makes it ideal for mobile workers who need to scan on the go.
Organized
In addition to TWAIN driver support, Document Capture Pro 2 and Epson Scan 2.0 are included with the DS models. Scannable documents are named, separated, and routed logically. Users can save and send files in PDF, JPEG, TIFF, and other formats. In addition, the CIS sensor provides instant scanning with no warm-up time. The new LCD panel simplifies remote job task definition.
Flexible
This model's versatility in scanning documents and media makes it a reliable asset. It can handle 35gsm to 270gsm paper and 1.8m long paper.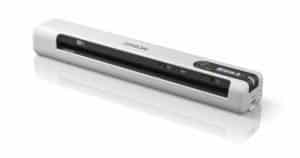 Features Scanner :
Monochrome: 4 s/page – Color: 4 s/page measured with Size: A4 , Resolution: 200 / 300 dpi , ADF, Automatic 2-side Scanning, 5 V DC (USB Bus), Wifi Connectivity
Price Estimation:
$129
Download Scanner Epson DS-80W Driver for Windows:
Windows 11 64-bit, Windows 10 x64, Windows 10, Windows 8.1 x64, Windows 8.1, Windows 8 x64, Windows 8, Windows 7 x64, Windows 7
Download (70.17 MB)
Driver Download Epson DS-80W for Mac OS:
Mac OS X (10.14), Mac OS X (10.13), Mac OS X (10.12), Mac OS X (10.11.x), Mac OS X (10.10.x), Mac OS X (10.9.x), Mac OS X (10.8.x), Mac OS X (10.7.x), Mac OS X (10.6.x)
Download (24.5 MB)