DOWNLOAD DRIVER EPSON ECOTANK L3250 – Designed to save money and increase productivity, the EcoTank L3250 is a multi-functional printer. For black-and-white printing, you can expect up to 4,500 pages and for color printing, you can expect up to 7,500 pages. Printing borderless photos up to 4R in size is also possible. Spill and error-free refilling is ensured by the use of integrated ink tanks and specially marked nozzles. Because it's wireless, the EcoTank L3250 can be used to print directly from mobile devices. If you don't have a printer with a control panel, you can use the Epson Smart Panel app on your mobile device to easily manage your printing functions and printer setup. Invest in the right printing solution today and reap the benefits in the long run.
The L3250 is capable of printing at a resolution of 5760 dpi, resulting in high-quality prints for all of your projects. You'll appreciate the high print speeds of up to 10ipm for black and 5ipm for color. The L3250 can also print borderless photos up to 4R.
Save Your Money

Using Epson's Heat-Free Technology, you'll be able to print at high speeds while consuming less power. Up to 90% of printing costs can be saved by using this EcoTank printer, which comes with up to three years' worth of ink in the box. If you need to print a lot of documents, the included ink will allow you to print 8,100 black-and-white pages and 6,500 color pages.
L3250 Warranty
A two-year warranty or 30,000 prints, whichever comes first, ensures that you get the most out of your printer and don't have to worry about its upkeep. It is critical for a printer designed for high volume printing to have a warranty that covers the printhead.
Epson L3250 Ink Used
Refilling ink tanks is a cinch thanks to the high-capacity tanks and the key-lock bottles, which ensure only the correct color is used. Ecotank L3250 is one of the printers that uses an integrated ink tank, in purchasing the L3250 you get 4 bottles of black, yellow, cyan and magenta ink with the ink code 003. For further use you are strongly advised to use original ink from Epson to maintain durability of your printer and print quality.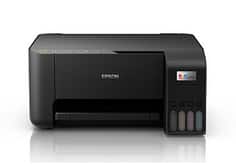 PRICE ESTIMATED
$ 1.379

DOWNLOAD DRIVER

| | | |
| --- | --- | --- |
| Compatible Operating System | Size | Download |
| Windows | | |
| Windows 11 64-bit, Windows 10 64-bit, Windows 8.1 64-bit, Windows 8 64-bit, Windows 7 64-bit, Windows XP 64-bit, Windows Vista 64-bit | 33.7 MB | Download |
| Windows 10 32-bit, Windows 8.1 32-bit, Windows 8 32-bit, Windows 7 32-bit, Windows XP 32-bit, Windows Vista 32-bit | 28.6 MB | Download |
| Scanner Driver – Windows 11 64-bit, Windows 10 64-bit, Windows 8.1 64-bit, Windows 8 64-bit, Windows 7 64-bit, Windows XP 64-bit, Windows Vista 64-bit, Windows 10 32-bit, Windows 8.1 32-bit, Windows 8 32-bit, Windows 7 32-bit, Windows XP 32-bit, Windows Vista 32-bit | 61.6 MB | Download |
| Mac OS | | |
| Printer Driver – Mac OS X – Intel, Mac OS X – PowerPC | 53.5 MB | Download |
| Scanner Driver – Mac OS X – Intel, Mac OS X – PowerPC | 26.6 MB | Download |